With 754,410 vehicles handled in the first days of December, we already surpassed the record number of vehicles transhipped in 2018 at the Car Terminal, but we did not stop there. 30 December 2022 will go down in port's history as the day when we handled a historic 800,000th vehicle. The main reason for the record figures in vehicle throughput was additional business, namely the diversion of certain volumes from northern Europe to the Port of Koper.
"What we predicted weeks ago has come true today. Despite the challenging conditions on the automotive market, intermittent interruptions in supply chains, and congested shipping and warehousing capacities, we have reached a new milestone at the Port of Koper. We have performed well in times of crisis and won additional business, which has had a decisive influence on this result.  We have already handled the 800,000th vehicle this year, further strengthening our position on the logistics map of the Mediterranean and Europe. I would like to take this opportunity to sincerely congratulate all the employees of the Car Terminal and all those who have contributed to this remarkable achievement," said Boštjan Napast, President and CEO of the Port of Koper concerning the new record-breaking milestone.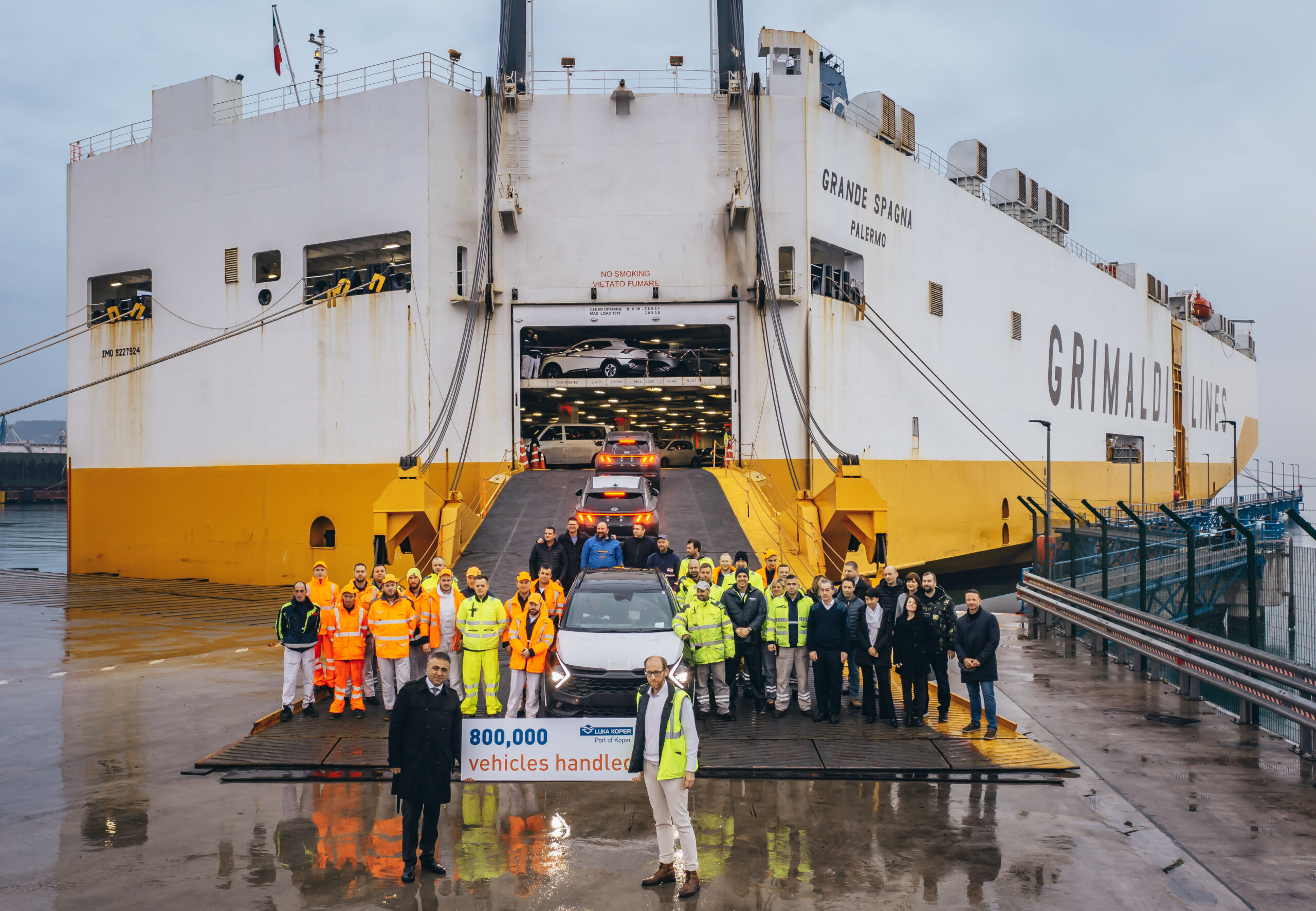 The Port of Koper recorded the highest growth in vehicle throughput (+22%) between January and October compared to other comparable Mediterranean car terminals in Europe, such as Barcelona (+7%) and Valencia (+18%). "This year we have surpassed the record number from the pre-crisis year 2018. In these uncertain times, marked by the coronavirus and the Ukraine-Russia conflict, we have reacted correctly, managing to redirect trade flows from north to south. We have already recovered considerably from last year, and this year we have increased our throughput by 20%. We are recording higher transhipments both in exports, especially to the Middle and Far East, and in imports, where the share of electric vehicles is increasing significantly. More moderate growth is forecast for next year, as there is also some uncertainty for manufacturers," said Gregor Belič, Head of the Car Terminal.
Our record results are accompanied by reliable services and several investments in additional storage capacity that we have made in recent years. The investment cycle continues, especially in the hinterland of the Basin III. We are currently working on the so-called cassette 5A, where we expect to be able to store an additional 3,500 vehicles in the second half of next year. The investment in the construction work will cost €5.1 million. In the coming years, additional storage areas will be built on two other cassettes located in the immediate vicinity.