The second largest solar power plant in Slovenia, with a total capacity of 3 megawatts, will be built at the Port of Koper. The project is worth almost €3.6 million in total, €2.1 million of which is EU funding.
The project will install 400 metres of solar panels on the roofs of two sets of warehouses in the port, providing up to 3 MW of electricity. In addition, the Municipality of Koper will build a small solar power plant of 270 kilowatts. The SOPOREM project is co-funded by Iceland, Liechtenstein, and Norway through the EEA Mechanism.
"Projects must be geared towards harnessing solar energy. It is right to use every rooftop, where possible, to create the best possible energy self-sufficiency in our area. I am convinced that the project to build a solar power plant on the roof of a parking garage, and especially in the Port of Koper, which has more such areas, will be a success story that will turn a new, important page in the development of the Slovenian energy sector," said Aleš Bržan, Mayor of the Municipality of Koper, at today's presentation of the project. The investment in the construction of a solar power plant on the Sonce parking garage is worth €655,000 and will be fully financed by the EEA mechanism.
The second largest solar power plant in the country will be installed by the Port of Koper on the roofs of two general cargo warehouses on Pier 2. "The project is a combination of the needs of the economy and of the Port of Koper, while at the same time trying to meet the needs of the local community for a cleaner, greener environment. The power plant we will build at the Port of Koper will be one of the largest in the country. Construction is scheduled to start next year and to be completed in 2024," said Vojko Rotar, Works Director and Member of the Management Board, on the timetable for the construction of the power plant in the Port of Koper.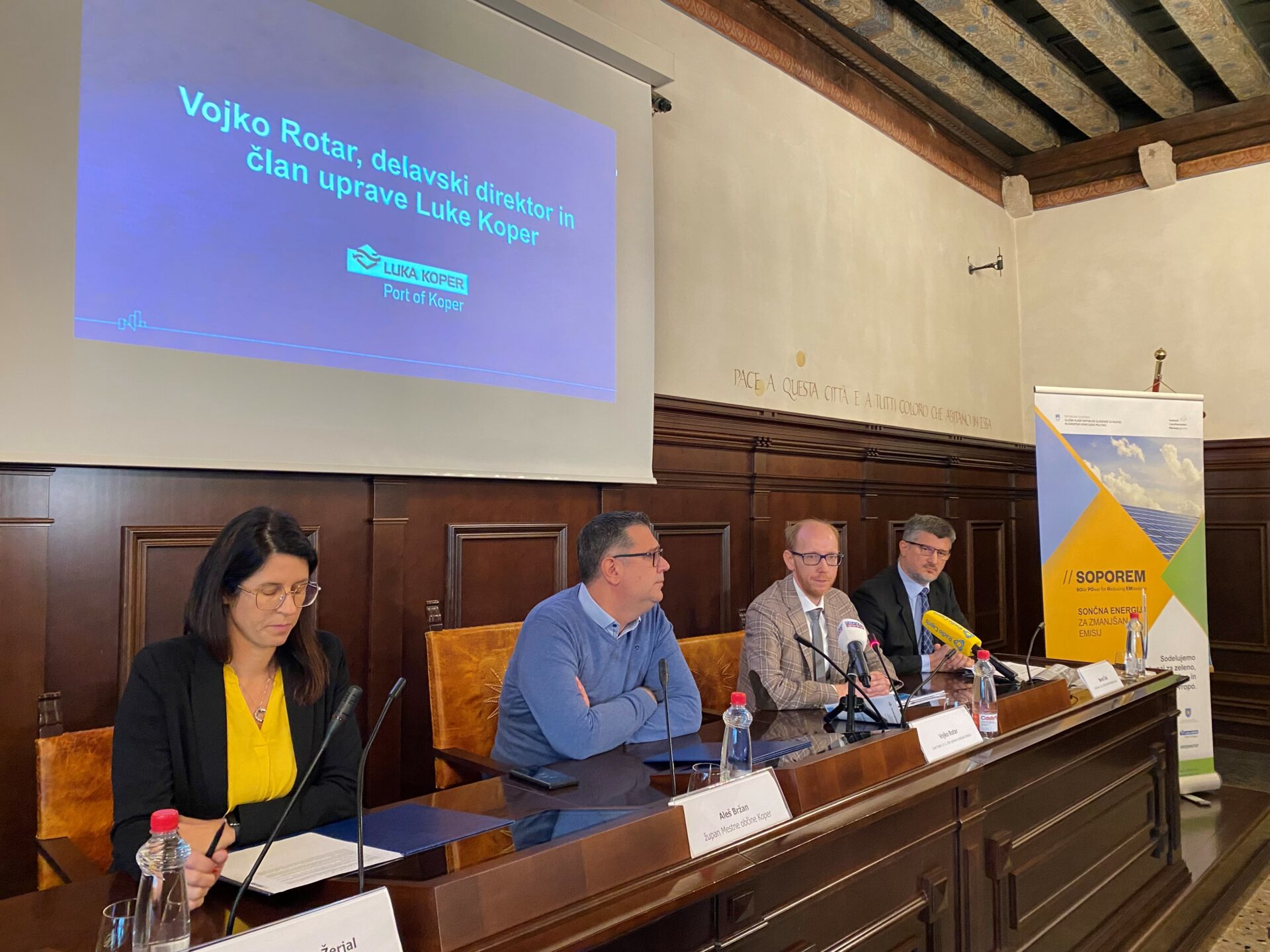 By 2025, the Port of Koper plans to cover three more warehouses with solar panels, increasing the total nominal capacity to 7 MW. According to Borut Čok, Head of Strategic Development Department, the company will invest around €15 million in sustainable projects in the coming year. A significant part of this will be devoted to the electrification of work equipment. For example, the Container Terminal will continue to replace diesel-powered cargo-handling vehicles with electric ones. In the coming years, a major investment in the electrification of berths is also planned, so that ships can be powered from shore.